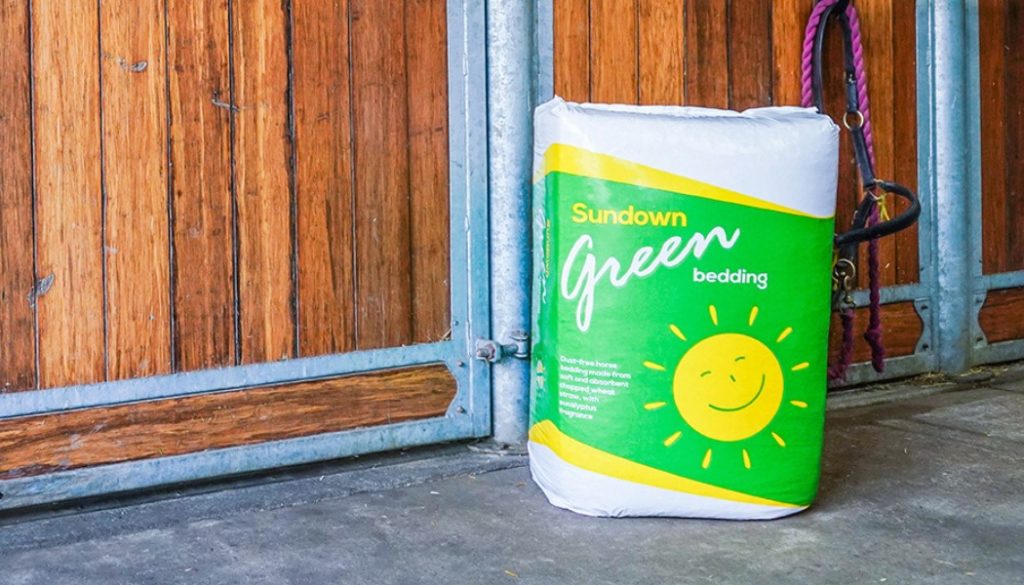 Economical chopped wheat straw horse bedding
Good for your horse, good for the environment!
Sundown Green is the most economical of our bedding range, but doesn't compromise on features.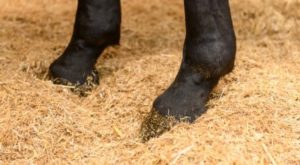 More Manageable Bedding
As a chopped straw bedding, Sundown Green is more manageable than traditional long straw, and is easy to muck-out, while providing a high level of comfort and warmth. Horses and ponies love their Sundown Green beds!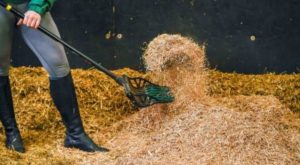 Double Dust-Extracted
Our unique dust-extraction method uses a vacuum to remove any dust from Sundown Green bedding, not just once, but twice! This supports a healthy stable environment, and we add eucalyptus fragrance for a fresh, clean smell.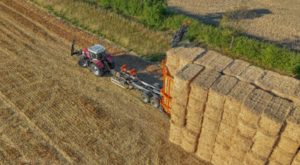 High Quality, Made Locally
Only the best British wheat straw, grown on local farms, is selected for Sundown Green, which keeps our quality high and our transport miles low.

100% British Straw
Made from locally-grown British straw, the by-product of wheat harvesting.

Value For Money
Our most economical chopped straw bedding, with great coverage.

Very Low Dust
Double dust-extracted for a healthier stable environment.

Highly Sustainable
Naturally sustainable. Composts quickly into a nutritious plant fertiliser.
Sundown Green
Now in new-shape bales, with reduced-plastic packaging!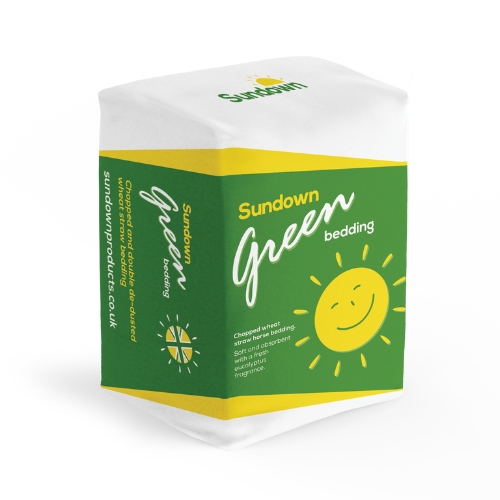 "It's like traditional straw bedding, but better!"
What our customers think about Sundown Green
Stephanie Richards, Eastlands Livery Yard
"We've been using Sundown Green for about five years and find it very absorbing, easy to muck-out. and very low waste compared to other bedding"
Ben Case Racing
"We've used Sundown Green bedding for over 10 years. We're very pleased with it, particularly the absorbency, spread, volume, and warmth of the bedding."
Frequently Asked Questions about Sundown Green bedding
Sundown Green can be used as the only bedding for your horse, or used in conjunction with other bedding products such as Sundown Yellow or Sun-e-bed straw pellets. You can create banks, or leave the bed flat, it's entirely up to you!
To keep the bed clean, regularly remove droppings and wet patches. The bedding is easy to compost and will rot down quickly in your muck-heap.
We add eucalyptus fragrance to our chopped straw horse bedding during the baling process. Our customers often remark on how it makes the stable smell fresh.
You will need between four and five bales of Sundown Green to make up a new bed in a 12ft x 12 ft stable.
Top up with one or two bales per week, depending on how much bedding has been removed and how deep you like the bed.
If your horse is used to wheat or rapeseed straw bedding and doesn't eat its bedding at the moment, it is unlikely to eat Sundown Green bedding.
If you are switching from wood shavings, paper, or a pellet bedding (wood pellets or straw pellets) your horse may show some interest in eating Sundown Green.
However, straw is a natural forage and will be digested like any other fibre in the diet (like hay or chaff), so if they initially eat a little of the bedding, there is no need to be concerned.
Ensuring that you feed sufficient fibre in your horse's diet will discourage them, and water should be freely available at all times.
Sundown Green is de-dusted twice, using our unique vacuum system, making it a very low dust bedding, suitable for horses who have dust allergies or respiratory problems like COPD.
It's also great for humans who suffer with dust allergies when mucking-out!
Unlike wood shavings and pellets, no trees are involved in the production of Sundown Green chopped straw bedding.
Pine trees can take between 25 – 30 years to reach harvestable size, whereas straw is produced every year, as a natural by-product of grain production. Sundown Green is made from wheat straw.
The structure of straw means that it is highly bio-degradable. It rots down quickly to form a nutritious compost that releases nitrogen and other nutrients back into the soil when it's spread as manure onto fields, or in your garden as fertiliser.
We source all our straw from local British farmers. This means we have full traceability on every bale that enters our production facility, and by using mainly local suppliers, we help to keep our carbon footprint as low as possible.
Sundown Green bedding is available to buy  from our network of stockists.
Use our store finder to search for your nearest stockist.
For bulk orders of bales, please call us on 01480 860745 and ask for 'horse bedding sales'.
Sundown Green bedding bales are packed in a weatherproof covering but are not suitable for long term storage outside.
The wrapping for our horse bedding bales is made from LDPE (low density polyethylene) plastic and contains 30% recycled plastic.
You can recycle the bags and bale wrapping where soft plastics are accepted. This includes many supermarkets and some local authority recycling centres.
Please do not recycle at home.
Discover our other bedding products
Find your nearest stockist
Enter your postcode to find your nearest stockist.