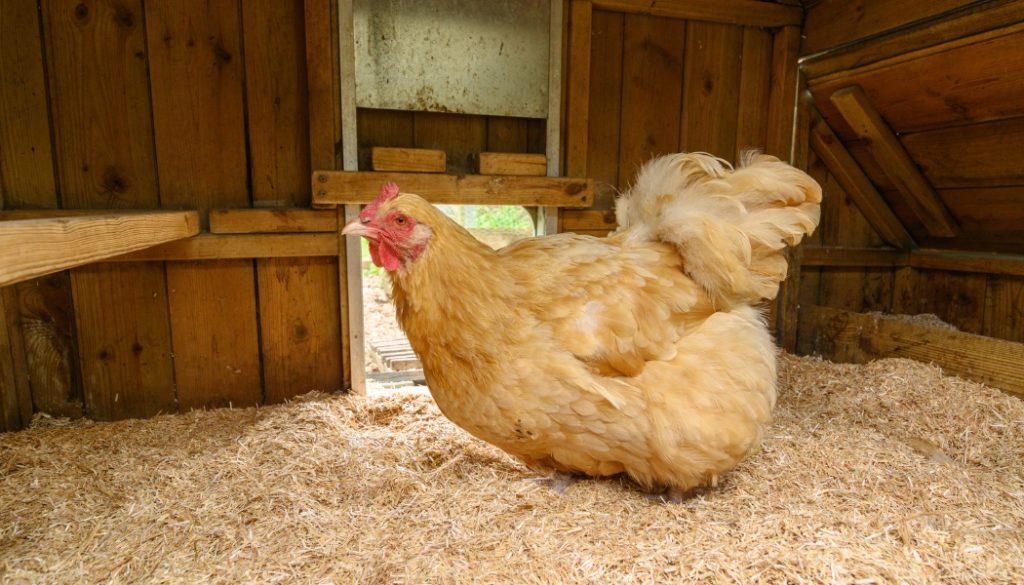 Finely-chopped wheat straw poultry bedding
Meet your flock's new favourite bedding!
Soft and cosy high quality poultry bedding that's great for your birds as well as the environment.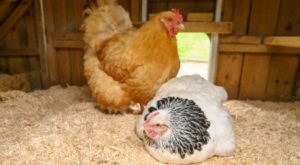 Encourages Nesting and Laying
The shorter-chopped wheat straw is great for the whole coop, especially the nest boxes where it encourages hens to nest and lay.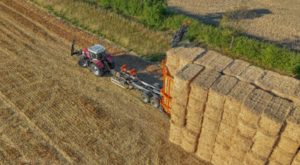 High Quality, Made Locally
Only the best British wheat straw, grown on local farms, is selected for Egg-e-bed, which keeps our our quality high and our transport miles low.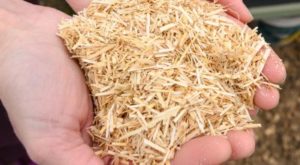 Double Dust-Extracted
We use an innovative vacuum double dust-extraction method on our bales of Egg-e-bed for a low-dust environment, and add a eucalyptus fragrance for a fresh, clean smell.

100% British Straw
Made from locally-grown British straw, the by-product of wheat harvesting.

Highly Sustainable
Naturally sustainable. Composts quickly into a nutritious plant fertiliser.

Very Low Dust
Double dust-extracted for a healthier coop environment.

Eucalyptus Fragrance
A long-lasting fresh smell that helps deter flies and reduces odours
Egg-e-bed Poultry Bedding
Available in convenient bales wrapped in recyclable plastic.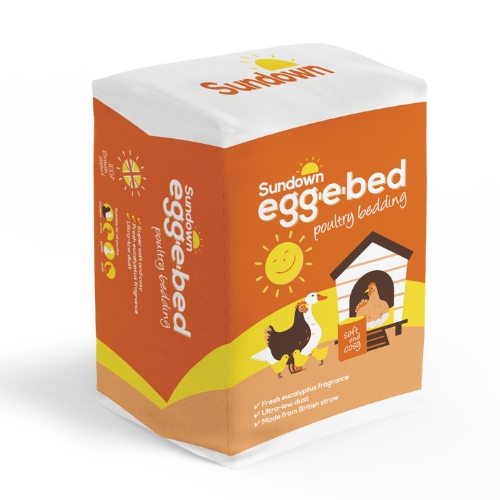 "Egg-e-bed is so easy to use, the chickens love it and it smells great!"
What our customers think of Egg-e-bed
Rowan Prince, The Poultry Centre
We were delighted to trial Egg-e-bed at The Poultry Centre. It smells great! It reduced the natural 'chicken' smell and didn't get smelly even after a few days. It's soft, both on your hands and on the bird's feet, and works well in both the nest box and on the coop floor. We found Egg-e-bed was very absorbent – the floor of the coop stayed dry, and any moisture was contained to one area of the bedding so cleaning out was easy – simply scoop out the poo and wet, and the rest of the bedding stays like new!
Clare Cooper
The straw is so soft, the hens loved it immediately. I have a problem with hens laying eggs in various locations in the garden, but they are now all laying in their newly bedded box of Eggebed.
Libby Bowness
I love the fresh eucalyptus smell which is so clean and fresh and helps to take away the normal hen coop odour
Frequently Asked Questions about Egg-e-bed Poultry Bedding
Egg-e-bed can be used everywhere in your poultry house or chicken coop, on the floor and in the nest boxes.
Lay out sufficient bedding that your birds can scratch, lay and rest. Provide enough bedding in the nest boxes for hens to arrange to their liking!
To keep the coop or house clean, regularly remove droppings and wet patches. Egg-e-bed can be composted at home and will rot down quickly to make a nutritious garden fertiliser.
We add eucalyptus fragrance to our Egg-e-ned poultry bedding during the baling process. Our customers often remark on how it makes the coop smell fresh and reduces the 'chicken-y' odour.
Unlike wood shavings, no trees are involved in the production of Egg-e-bed.
Pine trees can take between 25 – 30 years to reach harvestable size, whereas straw is produced every year, as a natural by-product of grain production. Egg-e-bed is made from wheat straw.
The structure of straw means that it is highly bio-degradable. It rots down quickly to form a nutritious compost that releases nitrogen and other nutrients back into the soil when it's used as a fertiliser in your garden.
We source all our straw from local British farmers. This means we have full traceability on every bale that enters our production facility, and by using mainly local suppliers, we help to keep our carbon footprint as low as possible.
Egg-e-bed poultry bedding is available to buy  from our network of stockists.
Visit our 'Find a store' page to search for your nearest stockist.
Egg-e-bed poultry bedding bales are packed in a weatherproof covering but are not suitable for long term storage outside.
Once open, keep Egg-e-bed bales under cover, for example in a shed or garage.
The wrapping for our Egg-e-bed bedding is made from LDPE (low density polyethylene) plastic and contains 30% recycled plastic.
You can recycle the bale wrapping where soft plastics are accepted. This includes many supermarkets and some local authority recycling centres.
Please do not recycle at home.
Discover our other products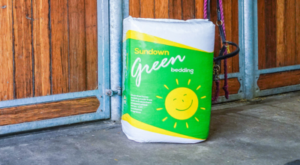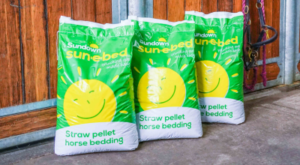 Find your nearest stockist
Enter your postcode to find your nearest stockist.